HEROIC FANTASY QUARTERLY– ISSUE 7
2010 ended with an entertainment-bang, what with True Grit, Harry Potter, and Tron Legacy, and 2011 starts off right with the septi-sensational seventh issue of HFQ! And as usual, it's all free. We're happy to present a full issue, complete with three stories and two poems for your reading pleasure.
Get clicking:
Fiction Contents
LORD OF THE BRASS HOST, by Dariel Quiogue
Dare we call this beauty a tale of S&S steampunk upon the steppes? We dare!
THE LAST FREE BEAR, by J. S. Bangs
Hope drives them across the tundra, and revenge into a world of legend!
SHATTERING THE SPEAR, by P. Djeli Clark
When the forces of the Witch Priest threaten the Southlands, only the
mighty Zhusa and their allies stand in the way. But are unbreakable spears enough to stop this ancient evil . . .
Poetry Contents
LAMENT FOR THE FATHERS, by Joshua Hampton
A poem seemingly straight from the middle ages! With this his second poem to grace our electronic pages, Mr. Hampton currently reigns as HFQ's Poet Laureate. (You can check out the prior here, from the halcyon days of '09.)
METTLE, by Scott Matthews
We couldn't have asked for a better winter poem. Short but powerful, certain lines of this piece are sure to warm the hearts of heroic fans everywhere — you'll know 'em when you see 'em!
Art
This quarter's artwork is "Wizard's Fire" by Simon Cowell.  Who's got initiative now, eh? Mr Cowell is a freelance concept artist, Illustrator, and painter living in Sydney Australia.  Check out more of his work here.
And we've got more than that.  Some of you may have noticed the fashionable HFQ T-shirt debuted at World Fantasy Convention in Columbus, Ohio.  Supplies were limited but now the awesome — like the spice — can flow!  Feast your eyes on the image: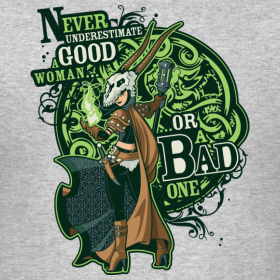 Increase your armor class, charisma, and proclaim your subgenre allegiance at the same time with this magnificent raiment.  The design?  Hypnotic!  The alignment?  Ambiguous!  Visit our store and get equipped.
In other news, The Harper's Pen award for adventure fiction is cranking into its second year. Check it out, join the guild, and let your voice be heard! HFQ got close last year, and we've already had two stories nominated for 2010 — this time we hope to take home the award.  Nominations end January 9, 2011, so get out there and nominate some (HFQ) stories! If you're able, declare your grassrootedness by donating to this S&S cause.
Goings-On:
A hearty thanks to Jim Lecky for donning Adrian Simmons' editorial shoes for this issue! His effort has far exceeded what we'd hoped to get from such an active creative-type. (In addition to writing and blogging regularly, Jim also is an actor. We're pretty sure he doesn't sleep.) HFQ is fortunate to have him for the upcoming quarter as well. Jim's latest fictions are forthcoming at Aurora Wolf and Lacuna.
Speaking of Adrian, his attempt to multi-class via the Fundamentals of Engineering exam are proceeding. Proceeding apace.
David Farney is blessedly short on news. He has poetry forthcoming at Aoife's Kiss.
All for now. As always, thanks for stopping by — we appreciate you, our readers, and hope everyone has a happy and healthy 2011!