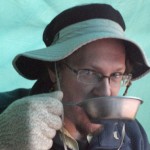 Adrian Simmons is a Norman, Oklahoma, based reader and writer.  His essays, reviews, and interviews have appeared in Internet Review of Science Fiction, and Coyote Wild.  His short fiction has popped up in Allegory Ezine, Revolution SF, and Coyote Wild.  An avid backpacker, he has hiked over 700 miles.  He is famous on the internet (in a good way).  He is looking forward to living in a center-left nation.
Lest you think he's all S&S all the time, check out his latest speculative fiction story over at Ty Drago's outstanding allegoryezine.com- "Support Staff"
David Farney studied architecture and science in college before earning a
journalism degree. He works in medical sales and enjoys writing epic and historical fantasy, as well as speculative poetry. He lives in Oklahoma City but dreams of living farther north — which might explain his fascination with Norse and Viking lore, which he blogs about here.

William Ledbetter is a writer and sometimes editor of speculative fiction.  In addition to his efforts here at HFQ, he has helped out at "Dark Energy Speculative Fiction" and "Quantum Kiss" and administers the Jim Baen Memorial

Writing Contest for Baen Books and The National Space Society.  Learn more about William at his website www.williamledbetter.com