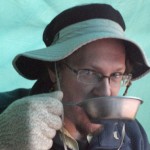 Adrian Simmons is a Norman, Oklahoma, based reader and writer.  His essays, reviews, and interviews have appeared in Internet Review of Science Fiction, Revolution Science Fiction, and Black Gate magazine.  His short fiction has popped up in Allegory Ezine, Strange Constellations, Apotheosis, and here and there at Heroic Fantasy Quarterly.  An avid backpacker, he has hiked over 900 miles.  He is famous on the internet (in a good way).  He is (still) looking forward to living in a center-left nation.
David Farney studied architecture and science in college before earning a
journalism degree. He works in medical sales and enjoys writing epic and historical fantasy, as well as speculative poetry. He lives in Oklahoma City but dreams of living farther north — which might explain his fascination with Norse and Viking lore, which he blogs about here.

William Ledbetter  is a writer and sometimes editor of speculative fiction.  In addition to his efforts here at HFQ, he is a Nebula nominated writer with more than fifty stories and articles published.  His other editor credits include the "Jim Baen Memorial Award: The First Decade" anthology for Baen Books, co-edited "Tales From a Lone Star: A Future Classics Anthology," from Belaurient Press and co-edited the now closed webzines Dark Energy Speculative Fiction and Quantum Kiss.  He also administers the Jim Baen Memorial Writing Contest for Baen Books and The National Sp

ace Society.  Learn more about William at his website http://www.williamledbetter.com/
James Frederick William Rowe is an adjunct professor of philosophy in the City University of new York and is pursuing a Ph.D. in the same subject. When not on quixotic quests – seeking a tenure, chiefly – he pursues the equally futile path of a writer, and the slightly less fruitless one of poetry.  In the latter, he's been recently nominated for a Rhysling Award.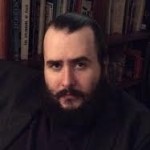 You can find out more about him at his extremely seldomly updated website http://jamesfwrowe.wordpress.com.
Barbara Barrett has been an enthusiastic and dedicated Robert E. Howard fan since 2006. Shortly after watching The Whole Wide World, she began reading REH and through his stories she discovered his extraordinary ability with words, images and strongly written characters.  Eventually Barbara found her way from Howard's poetic prose to his poetry and subsequently compiled and edited The Wordbook: An Index Guide to the Poetry of Robert E. Howard, which won the 2009 REH Foundation Atlantean Award.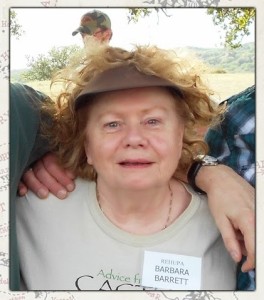 She has won three other REH awards for her work on Howard and she has contributed articles to REH: Two Gun Raconteur, Black Gate, On An Underwood 5 and others. She is a member of both the Robert E. Howard United Press Association  and The Pulp Era Amateur Press Society and her ongoing column "REH Word of the Week" has appeared weekly in various venues since 2009.
Now retired, Barbara lives in Northern California. She is a volunteer for the REH Foundation as well as a published poet who enjoys working on various poetry, fiction and nonfiction projects of her own.