You may have heard that winter is coming.   But you know what's already here?  Heroic Fantasy Quarterly Issue #34.  Just what you need to get your through the dark cold days ahead.  But that's not all!  We have traveled the world (again!) and compiled the best of  our best (again!) and now the Best-Of Heroic Fantasy Quarterly Volume II is available!
Fiction Contents
Crazy Snake and the Demon of Ometepe , by Eric Atkisson. Half-Comanche adventurer Crazy Snake and his companions are embroiled in the rebellion against William Walker's coup in Nicuragua.  Desperate struggles on both sides open the door to more desperate measures.  Illustrated by Simon Walpole, "Demon of Ometepe" is the final story on our historical fantasy Triple-Crossover! (check out parts one and two ).
Hunger's End , by Scott Shank. The cursed forest of Kuthao has enveloped all the works of man.  A lone group of soldiers brave the trackless woods and in an ancient nameless abbey they find horrors greater than the merciless forest.
Dragon in Amber , by Patrice Sarath. Weith is the keeper/jailer of the captive dragon Arauch, keeping her strong enough to fight the enemies of the kingdom, but not so strong that she could escape.  But a dragon, over time, can learn many things about how the world of men works.
Poetry Contents
The Barghest Revenge , by Adam Vine. You know those tales where the real monsters are the people?  Sometimes the people are just one of many monsters.
Great Poet Emperor, by Meg Moseman.  There is great power to poetry, and none have that power in such abundance as the Great Poet Emperor!
Gæscligcrymblingas , by Ariel Bolton. Hark, ye!  After Hunger's End and Berghast Revenge, let Gæscligcrymblingas, will set you straight; get your P's and Q's in order, so to speak.
Artwork
We welcome Jereme Peabody with "Journey's Beginning" for our banner art. As if our historical fantasy triple-crossover wasn't enough, Jereme will be producing a series of interconnected banners for us starting with issue #34 and continuing until the tale is told.  Too daring?  Too Bold?  Too much is never enough!
Jereme is a software engineer in the DC area and is also a freelance concept artist working mostly on video games and books.  He started his artistic career dabbling with sculpting, pencils, and even still-life oil painting.  As tablets became available, he crossed over from traditional art to digital by first digitally painting still-lifes, then through experimentation and practice, transitioned to landscapes and fantasy.
Miguel Santos returns to our electronic pages with his illustration for Dragon in Amber.  His illustrations at HFQ can be found in  "Seven Moves on an Ordrulk Board", "Spatha Stercae" and "Seraph".  He has several illustrations in the HFQ Best-of Volume 2, as well.
We are happy to introduce Simon Walpole with his illustration for Crazy Snake and the Demon of Ometepe.  Simon is a freelance illustrator who works primarily in pencil, pen and watercolours and whose work can be seen at his website Hand-drawn Heroes.   Simon also has multiple works in our Best-of Volume 2.
Goings On
What's been going on? What hasn't!  The big news (if you haven't figured it out yet) is that the HFQ Best-of Volume 2 is now available.  We premiered it at World Fantasy Convention in San Antonio last week to great fanfare!
David Farney:  You know Emperor Snoke, from the new Star Wars movies?  David is much like that (only far more handsome).  If there are strings pulled, he is pulling them.
Adrian Simmons: Adrian has been going non-stop, with producing the best-of, hustling the best-of and bulldogging this issue.  He'll have stories coming out at Giganotosaurus (science fiction) and Andromeda Spaceways Inflight Magazine (a bronze-age fantasy reminiscent of Bronze-Ard and the Ferret-Master).
James Rowe: Things have been a bit quiet on James' front. He still sees poems published over at Songs of Eretz, including "Single Malt Soul" recently. Aside from that, he's mostly been focused on academic writing and getting new papers ready for publishing, in between the shennanigans of a mediocre Halloween, and disappointment over the Yankees coming up short in the ALCS. You may soon see him on the New York independent wrestling scene where plans are being laid for him to manage his friend (and fellow poet) "Midtown" Mike Carolan.
William Ledbetter: We must bid adieu to Bill Ledbetter, as he's become a writer of such stature that he has had to make sacrifices, bloody-alter sacrifices, and HFQ is the first to get its living beating heart ripped out to appease the gods of time.  Which is okay, we've suffered worse for less worthy causes.
Barbara Barrett:   Barbara is about 80% recovered from a long-odds heart surgery.  She'll be back to reading submissions for us again soon.
Fellow Travelers!
At the World Fantasy Convention, HFQ split a table with Skelos. We premiered our best-of volume 2, they debuted their third issue.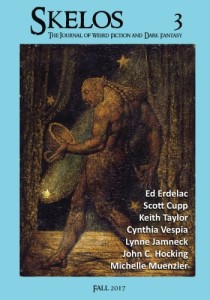 It is an exciting time to be an S&S/Adventure Fiction fan! Heroic Fantasy Quarterly, of course, and Skelos, AND a new venture:  Tales From the Magician's Skull.  TftMS had an incredibly successful kickstarter campaign—which were a bit late getting in on.  Still!  Check 'em out.