The second quarter of 2011 has arrived, and with it comes Heroic Fantasy Quarterly Issue 8!  We  bear remarkable tales, delights, and news.  And we exuberate in our labors!  Two short stories, three poems, and our first ever novella:
Fiction Contents
DEMON SONG, by A. R. Williams
Supernatural samurai slices some serious adventure. (Sorry, A. R. — we couldn't resist!) Seriously, good readers, check this one out: a vengeful samurai learns a lesson from the grave . . . but just whose grave is it?
THE DOME OF FLORENCE PART I, by Richard Marsden
Way back in HFQ Issue 1, Richard Marsden's MAN OF MOLDANIA was the first story we accepted — and he continues his firsts with us by delivering our first novella, this coming to you in an historical fantasy in two parts. With architecture, alchemy, and papal wizards, who could have guessed the Inquisition would be so fun!
THE BARONESS DREFELIN, by David Pilling
Another fine offering from a writer previously published at HFQ, this one bringing some much overdo levity to our fictions. When it comes to unrequited love, we reckon there are many more bad ways than good to, um, bear the jilt. We like the way the hero in this tale goes about it.
Poetry Contents
GILGAMESH (WHAT THE SUMERIANS SEEM TO HAVE MISSED), by David Sklar
Man, we hate to go all commercial and cliché, but we're gonna: Seriously? Seriously?! Where has this poem been all our lives? If reading Sumerian myth has been on your to-do list but you've never gotten around to it, start here — after feasting on this work we think you'll seek out the source material without delay.
MIGHTIER THAN, by Keith Kennedy
Whoa. If we had one word to describe this piece, it would be muscular. And if you were to allow yourself 30 seconds to read this poem from beginning to end, we think you might agree with two more descriptors: perfect dismount!
I SHALL NOT DIE HERE (BALLADE OF A WARRIOR BOUND), by Jason M. Waltz
Jason goes old school by following a particular poetic form.  This ain't no heartsick ballad — it's a ballade, damn it!
Art
This issue's art is provided by the phenomenally talented Mr. Garrett Hanna.  Check out more of his artwork here.
Goings-On:
In this issue's fiction lineup, we very nearly went three-for-three with authors published prior at HFQ. A. R. Williams (DEMON SONG) was a writer we let get away in an earlier issue. DUEL ON HAKKOJJI BRIDGE was a tale we enjoyed but had to reject because we had other Eastern pieces on hand, but we want to give him props here for having persisted and found a solid home for it. If you like Japanese flavoring to go with your fantasy reading, then click here to check out another cool story.
And our authors continue to make headway in the world of contests.  Two of our writers are nominated for the 2010 Harper's Pen  Award.  Slip over there and sweeten the pot!
In other news, if you were at World Fantasy Convention 2010, you may have noticed the unstopp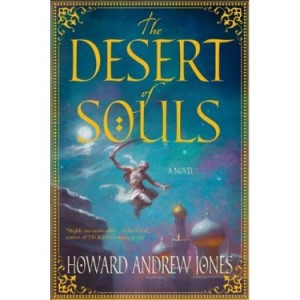 able cadre of HFQ, Black Gate, and Rogue Blades Entertainment.  It was at that time we first learned of the impending release of Howard Andrew Jones' new novel Desert of Souls .  Thanks to The Brotherhood we were provided with a free copy.  Rejoice, sword and sorcery fans — one of your own has written a tale for you.  Adventure stretching across the Caliphate!  Djinn!  Treachery!  Necromancy!  Keen scholarship!  You'll want this book.  Feel the love, like the very winds of the desert, by checking out this excerpt.
But HFQ's editors have gathered no moss themselves.  While their (writing) stones are admittedly smaller than Mr. Jones', they're also out there for all to see:
David Farney's sci-fi poem FULCRUM AT THE DAWN OF MAN was published in the March issue of Aoife's Kiss.
Adrian Simmons brings humanity to its knees in his tale TRIBES in the Doomology anthology from Library of the Living Dead Press.
When not writing or editing, HFQ's Irish connection, James Lecky, is lighting up the stage with his eeevil gravitas in THE EXODUS.
Our growing army of minions has been equipping themselves with quality HFQ shirts.  Get in the foxhole, soldier!

Dig!  In!